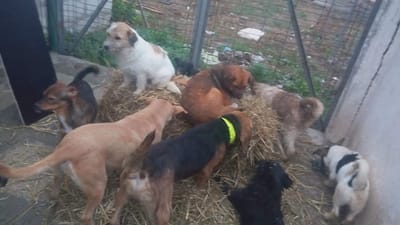 PAWS TO FREEDOM ROMANIA offers support to animal rescuer Gabriela Andrei who takes abandoned dogs and cats from the streets of Constanta, Romania, and keeps them safe in foster at Dex's Dog Shelter. We help promote her rescue dogs and cats, primarily to help find them loving homes here in the U.K., but also to raise awareness of the plight of stray animals in Romania.

How costs are calculated:
- travel prep – between £70 - £80 dog, £40/£50 cat, dependant on vet used, needs of the animal, size, exchange rates.
- transport – between £185/£250 dog, £90/£150 cat

What you can expect to pay:
Different rescues ask for different donations, but charges are to cover the prep they pay rescuers and the transporter they prefer to use. You should expect to pay between £330 and £365.

Before any animal can travel to the U.K. it must be 'prepared'. Dogs will be vaccinated against parvovirus, canine distemper, leptospirosis and kennel cough. They will get a 4DX test and a test for giardiasis if deemed necessary. The 4DX test is to rule out diseases such as heart worm and Lyme. Cats will be vaccinated against the 3 most common diseases. Both dogs and cats will also get an anti-rabies vaccination. Where appropriate all dogs will be spayed or neutered, dependent on age. It will be the responsibility of an adopter to get their dog spayed/neutered once old enough and this forms part of the adoption contract. The cost includes flea treatment and worming prior to travel.

We work with different U.K. dog rescues who charge different adoption fees. Their fees are based on paying prep, the cost of transport and any incidental fees they may incur. The vast majority of rescues will make little or no profit from a dog, and any profit is usually directed back at the rescuers they support, or to cover costs of dogs in foster.

For a cat you can expect to pay about £100 as a donation towards travel costs. The rescue will subsidise the rest. Paws for Freedom receives no money for travel prep since cats can be obtained in the U.K. for under £100. However, should you wish to make a donation towards travel prep costs, this would be hugely appreciated.

Once an adopter has made an enquiry about a dog or cat, a rescue will then be contacted and they will arrange a home-check for you. Should you be successful, the adoption contract will be between you and the rescue, who will organise transport and provide rescue back up should you need it.